How to Install and Watch IPTV on Roku
Paying for cable is incredibly outdated. You've got to pay an expensive monthly fee, deal with the company coming to your house, and suffer from constant outages and other problems.
Fortunately, if you've got a Roku, you can get the best of live television without needing a set-top box, thanks to IPTV on Roku.
This post will tell you all about IPTV and how to install it on your Roku device.
What Is IPTV?
Before discussing how to install IPTV on Roku, let's get into what IPTV even is.
As you may know, IPTV stands for Internet Protocol Television. IPTV is a service that provides you with live TV channels and movies via the internet. An IPTV service is essentially a faster, more versatile form of on-demand TV. IPTV channels come in HD high-resolution, so you're not sacrificing quality in the slightest.
An IPTV service usually requires some sort of set-top box. But if you choose to watch IPTV on Roku, you circumvent that requirement.
How to Install IPTV on Roku With a Simple Trick
This tutorial provides step-by-step instructions to install IPTV on Roku. Using a Roku device, we must "sideload" IPTV on the Roku device. The instructions below will require the use of a computer in order to download the IPTV app file and add it to your Roku streaming device.
If you are using another IPTV player such as TiviMate, you can also watch IPTV on Roku by casting to your Roku device. IPTV Smarters is one of the best IPTV Players, compatible with hundreds of IPTV services that use a server URL.
Anyways, let's get into how to install IPTV on Roku. I divided the instructions into four parts to make them easier to follow:
Part 1: Enabling developer options on Roku
Part 2: Adding the IPTV Smarters channel
Part 3: Downloading the IPTV Smarters package on your computer
Part 4: Installing IPTV Smarters on Roku
Don't worry, the process is easier than it sounds. Let's begin.
Enable Developer Options on Roku
1. Launch your Roku by switching to its HDMI input on your television.
2. Grab your Roku remote and press the following buttons in this order: Home Button x3, Up Arrow x2, Right Arrow x1, Left Arrow x1, Right Arrow x1, Left Arrow x1, Right Arrow x1.
3. If done correctly, the developer options menu will appear on your Roku TV screen.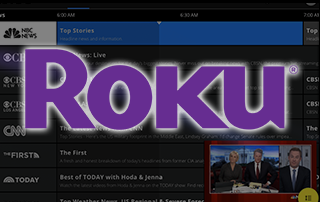 4. Write down the IP address listed on the screen.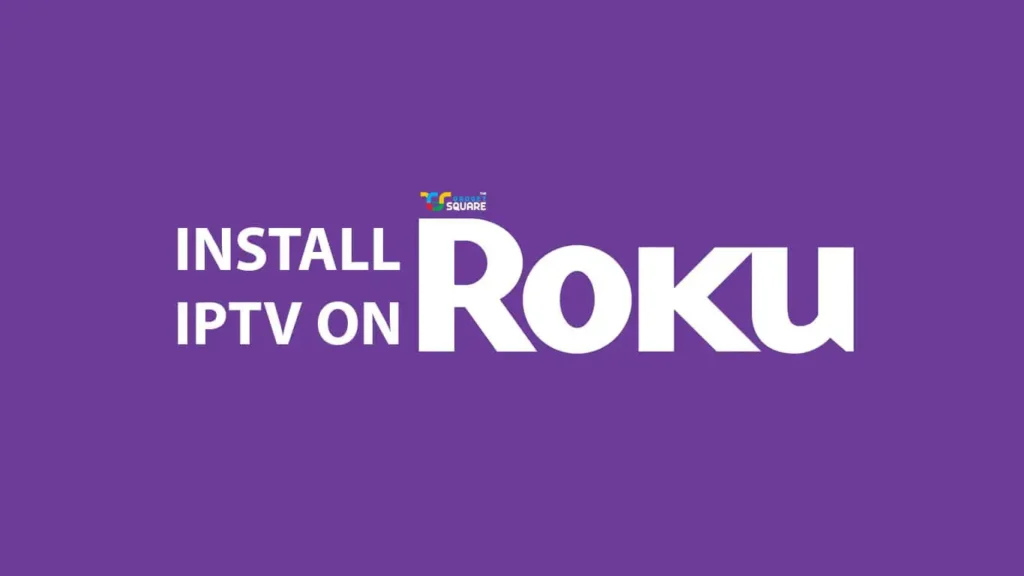 5. Select Enable installer and restart (mine says Disable because I've already done this).
6. Scroll through the Developer Tools License Agreement and select I Agree.
7. Create a webserver password using the keyboard that appears. You will need your webserver password for a later step.
8. Select Set password and reboot.
Part 2: Add IPTV Smarters Channel
1. Head to your computer and navigate to my.roku.com using any browser.
2. Type in your username and password for your Roku account, and click Submit.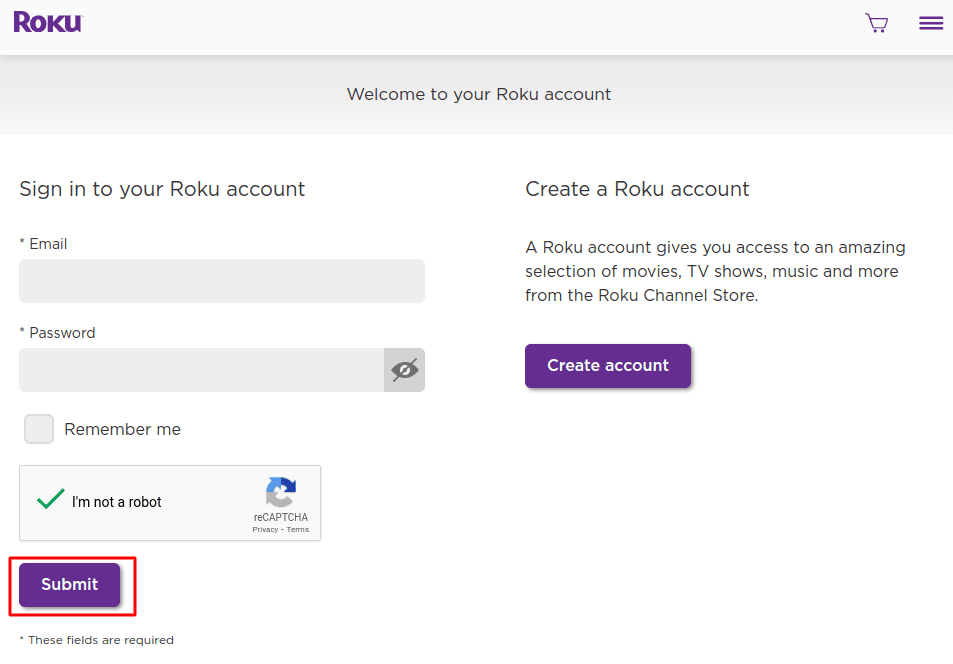 3. Once logged in, select Add channel with a code, under Manage account.
4. Type iptvsmarters into the box. Make sure you've typed it exactly as shown.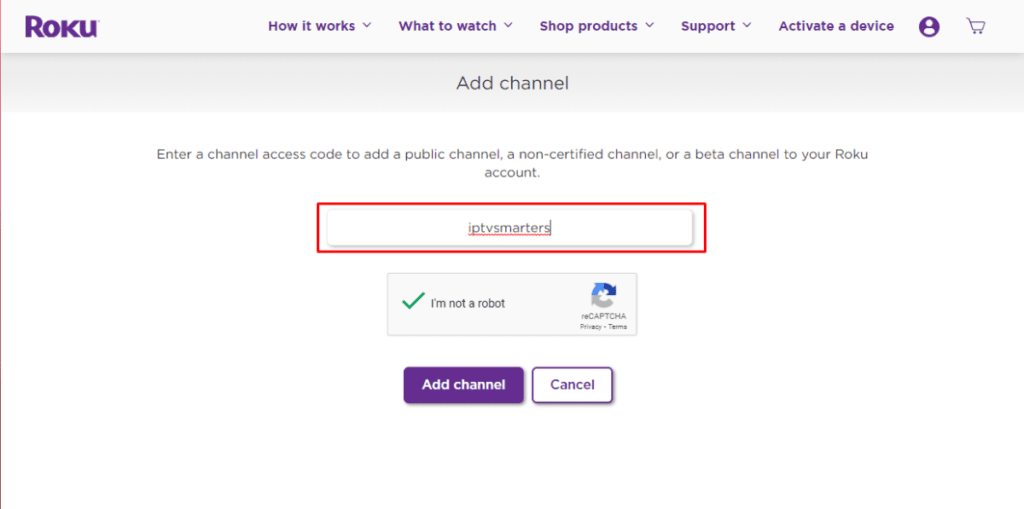 5. Select Add Channel to add it to your Roku.
6. Click OK on the warning message that appears.
7. Select Yes, add channel on the following popup.
Part 3: Download IPTV Smarters Package on Your Computer
Now, it's time to download the IPTV Smarters file onto your computer.
1. Head to this link on your computer and the download should start automatically: https://www.whmcssmarters.com/clients/dl.php?type=d&id=108
Note: FireStickTricks.com doesn't host or distribute this APK. The link leads to the site where it's hosted.
2. Save the IPTV Smarters package somewhere accessible on your computer (you'll need to browse to this location in a moment). I'm going to save it on my Desktop.
Part 4: Install IPTV Smarters on Roku
1. On your computer, open any browser. In the address bar, enter the IP address from your Roku that you wrote down earlier.
2. A sign-in box will appear. Type rokudev as the Username. For the Password, type in the webserver password you created earlier. Finally, click Sign in.
3. Click Upload on the next page.
4. Browse to the location where you downloaded the IPTV Smarters package (mine was my Desktop). Select the downloaded folder and click Open.
5. Click Install once the file is uploaded.
6. If you see this screen, you've done it correctly!
7. Head back to your Roku device, and IPTV Smarters will be on the television.
8. Simply log in with your IPTV Smarters information and you're in!
Now that you have IPTV Smarters on your Roku device, click here to learn how to use IPTV Smarters to watch different IPTV services.
Steps to Watch IPTV on Roku Through Screen Mirroring
To stream IPTV on your Roku-connected TV using screen mirroring, you need to install IPTV Smarters or Smart IPTV (a different IPTV player) on your smartphone. Once you have one of these two players, you can use the cast or mirror option on your device.
With the cast/mirror option, you can access content on your Roku TV from any device on the same Wi-Fi network that's using the IPTV player app.
Is IPTV Legal on Roku?
IPTV on Roku is legal, yes. If you're tired of dealing with traditional cable, paying for various packages, and having a limited overall experience, IPTV on Roku is a fantastic way to consume media content like TV shows and HD videos.
However, this service does come with a caveat. While learning to watch IPTV on Roku is ideal for watching content without paying a ton, note that there are various legal and illegal IPTV services out there. FireStickTricks.com is unable to accurately determine and declare which is which. It is up to you, the user, to do that research before trying one out.
I would strongly recommend using a trusted VPN on your router that can protect all your devices, including Roku. A VPN will encrypt your data, meaning no one can find out what you are streaming or surfing online. I personally use ExpressVPN, which is the fastest and most secure VPN money can buy.
Here's how to set up ExpressVPN for Roku.
Best IPTV Services for Roku (Unverified)
Now, I'm about to detail the best IPTV on Roku applications that are unverified. In this case, unverified means needing to sideload applications that might not be available on an app store. But, of course, these IPTV services could be cheaper than traditional TV services as well.
If an app is not in available on an app store, it also means we cannot verify the licenses and other legality surrounding each one. So use unverified IPTV services with caution.
1. Iconic Streams
Iconic Streams provides ultra-HD quality movies and TV channels to your Roku device. This streaming service features over 9,000 channels with 110 servers worldwide—an ideal scenario for most users, as there is likely one near you.
The IPTV app allows you to watch live events and video on demand (VOD) content and even provides a TV guide for you to browse channels. Please note that there are no adult content channels available on this IPTV service.
Otherwise, each paid plan provides you with 6,000 live channels and 3,000 VODs, as well as an Iconic Streams application for up to 3 devices at once. Each plan also provides live chat support through the website if you have any issues.
Iconic Streams supports PayPal and Bitcoin payments.
You can learn more about Iconic Streams here.
2. Yeah! IPTV
Every paid plan on Yeah! IPTV supports the standard definition, high definition, and full high definition channels on tons of devices like your Roku. That said, you will need to pay more to use multiple connections at once.
These plans provide you with over 6,000 live TV channels and exclusive sports channels, among an expanding list of services. The website also features a ton of tutorials on how to install on smart TV, Windows PC and Mac, Android, Amazon Fire TV, and other streaming devices.
3. Apollo Group TV
Apollo Group TV is a reasonable IPTV service providing over 1,000 live channels to all of its subscribers. On top of this, it offers a 10-day free trial for you to test out the platform before committing.
Live channels include everything from news to TV shows and movies to sports, even some pay-per-view channels. Interestingly, you can choose to pay with Bitcoin or a debit/credit card.
Apollo Group TV provides constant support through its email, Discord, and Telegram channels as well, so you can always get an issue solved.
4. SSTV IPTV
Providing over 8,000 live channels, shows, and movies to watch on your TV screen, SSTV IPTV is a quick choice for many looking for IPTV on Roku. It now has apps on all sorts of devices, so you can expand watching past your Roku device.
However, it's worth noting that this media content platform only accepts Bitcoin and PayPal as payment, so keep that in mind before diving in.
5. Hypersonic TV
Hypersonic TV is one of the cheaper streaming services, with a massive channel selection of over 7,000 live TV channels. Moreover, it supports television shows from the United States, the United Kingdom, and Canada, as well as some international sports if that's your thing.
Hypersonic TV provides IPTV content in HD but also has a full-HD channel as well. You can try it out for 24 hours at just one dollar, and a monthly subscription isn't too expensive either.
Best Legal IPTV Services for Roku
The following IPTV app list for Roku is entirely legal, meaning there's no risk while downloading and using these apps on your device, all of which you can find on the official Roku Channel Store.
Let's get into the best legal IPTV apps for your Roku.
IPTVDIGI is a very popular IPTV app for Roku, with over 50 channels streaming in full-HD streaming. The platform provides two different plans, Sling Blue and Sling Orange, which have different channel selections and support a different number of devices.
There are no contracts beyond the monthly subscription, so you can start and end the service whenever you'd like. You can also switch between the Blue and Orange plans at no cost, or get both at a discount.
Philo is an IPTV provider that offers unlimited DVR recording and over 60 channels. You can even test out the service for its seven-day free trial and experience a host of additional add-ons.
On top of this, you can stream on up to three devices at once, with up to ten profiles per account.
YouTube TV is an expensive but reliable IPTV service for your Roku device. It provides various professional sports IPTV channels and other content, plus unlimited cloud DVR storage. The IPTV provider offers over 85 channels total, which you can easily view on your mobile device as well.
YouTube TV is accessible through the YouTube app in the Roku Channel Store; there is not a separate app specifically for YouTube TV. In the main menu of the YouTube app is the option "Go to YouTube TV," which is how subscribers can access the IPTV service on Roku.
Note that YouTube TV only supports up to three devices at once.
Hulu is compared to Netflix a lot, but Hulu also offers live TV and tons of sports channels through internet service providers. The live TV portion of the platform is mainly focused on sports channels, though it supports over 75 channels with up to 50 hours of cloud DVR storage.
If you'd like, you can even use the 7-day free trial to test out Hulu Live TV before committing.
AT&T TV is an expensive IPTV provider, but a good one at that. This IPTV service gives you over 40,000 things to watch on Roku, but a limited 20 hours of cloud DVR storage can feel restrictive to some users.
However, it's worth noting that AT&T TV comes with an HBO Max subscription, which is a solid addition to the overall package.
Wrapping Up
In this article, I showed you how to watch IPTV on Roku in a couple different ways. One method is to use an unverified IPTV service by integrating it with a Roku IPTV player or by using screen mirroring on your mobile device. Another method is to get a verified IPTV app from the Roku Channel Store. Any method gives you access to TV shows, live TV, and other video content, often for significantly cheaper than traditional TV.
Did you have any trouble following this article and getting IPTV on Roku? Which IPTVs did you check out, and what do you think of them? Leave a comment to share your thoughts!