Description
6 Months IPTV Subscription for 1 Connection
Section 1: "Unlimited Entertainment at Your Fingertips"
– Immerse Yourself in a World of Entertainment
– Explore a Vast Array of Channels and Content
– Never Miss Your Favorite TV Shows or Movies Again
Introducing our 6-month IPTV subscription, the ultimate solution for those seeking unlimited entertainment opportunities. With a simple setup and an extensive range of channels, this subscription is designed to transform your TV viewing experience.
Imagine having access to a wide variety of channels, including sports, movies, documentaries, kids' shows, and more. From live sports events to your favorite sitcoms, our IPTV subscription ensures that you never miss a moment of your preferred content. With this subscription, you have the power to choose what you want to watch, when you want to watch it, and where you want to watch it.
Section 2: "Unparalleled Picture Quality and User-Friendly Interface"
– Immerse Yourself in Stunning 4K Clarity
– Experience Smooth and Buffer-Free Streaming
– Easily Navigate Through Our Intuitive Interface
Quality matters when it comes to your viewing entertainment, and our IPTV subscription delivers nothing but the best. Enjoy breathtaking 4K clarity that brings every detail to life, adding a new level of realism to your favorite shows and movies. With crystal-clear visuals, you'll feel like you're right in the middle of the action.
Say goodbye to frustrating buffering and freezing issues. Our subscription ensures smooth, uninterrupted streaming, so you can enjoy your content without any annoying interruptions. Get lost in your favorite series or cheer on your team without the worries of glitches ruining the experience.
Navigating through our intuitive interface is a breeze. With a user-friendly layout, you can effortlessly find the channels, movies, or shows you desire. Our subscription is designed with simplicity in mind, making it accessible for users of all ages and technical expertise.
Section 3: "Flexible and Convenient Viewing Experience"
– Watch Your Favorite Content Anywhere, Anytime
– Multi-Device Compatibility for On-the-Go Entertainment
– No Contracts or Hidden Fees
With our IPTV subscription, you're not tied down to a single location or device. Watch your favorite content from the comfort of your home, or take it on the go with mobile and tablet compatibility. Whether you're on a long journey, at the office, or even on vacation, your entertainment is always within reach.
Stream on multiple devices simultaneously and keep everyone in the family satisfied. No more fighting over the remote control or waiting for your turn. With our multi-device compatibility, you can watch different channels on different screens, ensuring everyone gets to enjoy their preferred content.
We believe in transparency and flexibility, which is why our IPTV subscription comes with no contracts or hidden fees. You're in control of your subscription, and you can cancel or renew it based on your preferences. Plus, with our competitive pricing, you'll enjoy incredible value for the diverse range of entertainment options available to you.
6 Months IPTV Subscription
---
Description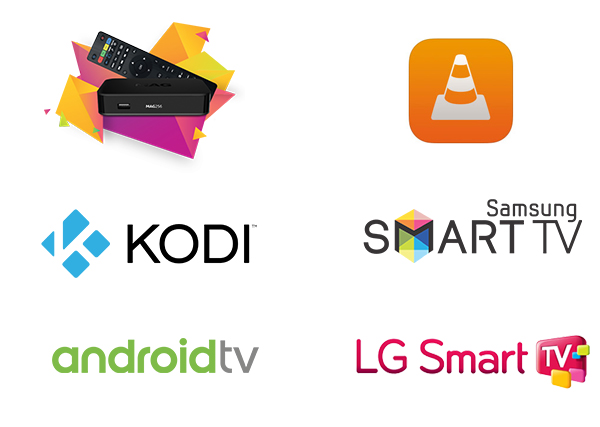 == High quality iptv subscription ==
ONLINE SUPPORT 7/7

Channels available : ALL COUNTRIES
EPG+LOGOS
A playlist of +21000 channels and videos on demand full HD & SD | high quality server
WHY CHOOSE OUR IPTV SUBSCRIPTION :
High Quality Premium Server – Load Balancing – Very Wide Bandwidth.
+21000 Channels in Full HD and HD
+20000 series Vods and recent movies (updated regularly)
After sales service & support in case of problems (Email or Whatsapp)
Compatible with :
Smart IPTV Samsung, LG , thomson, Sony, Android TV..
Mag 250,254,256,322,323,352,353,410 …etc
PC/MAC
Smartphone/Tablet (Android , iOS)
Box Android TV ..
 Box Enigma2 (Vu+, Dreambox, Zgemma, ..)
Samsat, Starsat, GigaBlue, Geant, Tiger, Revolution, Vision, Echolink (V1, V3, V4, V5, V9, V9 Pro, Femto, Tornado)
All m3u file readers
-SMART TV Samsung, LG, Sony .. : Activation via application  Smart IPTV :
IMPORTANT for application Smart IPTV : before ordering you must activate your Smart IPTV app Or download iptvsmarters pro for FREE
We Prefer To Download IPTVSMARTERS PRO
But if you want Smart IPTV Please Follow these Instructions
If you do not already have the application SMART IPTV installed on your Smart TV, install it from the Play Store here cette application vous offre 7 days free trial, after the trial period expires, you must activate it at 5€49 sure the official website of the application .
On some Android Box, it is possible to encounter a problem of incompatibility of the application Smart iptv on Google Play, to solve this problem, you need to install the application manually, go to this page and Download the file APK and install it manually on your Android BOX.
To find the MAC address of your Smart TV just access the application on your Samsung Smart TV or LG or any Smart TV or Android Box with an Android system, on the main screen of the application you will see your MAC address as in the photo below: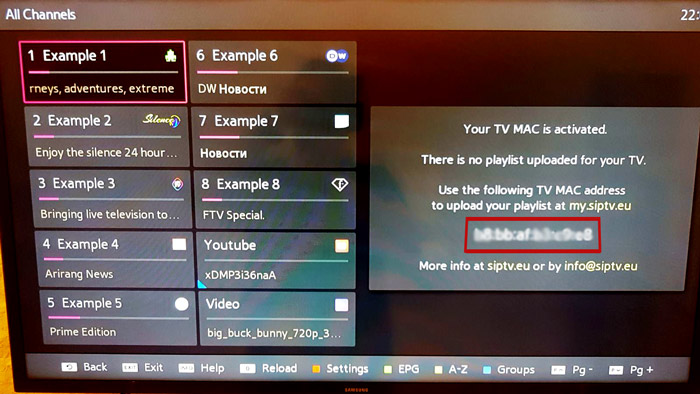 -Subscription iptv MAG 250-252-253-255-256-322-323-352-353-…etc
For activation of your iptv subscription on your MAG box,you must send us with your order the MAC address found on the label behind the box, the activation is done entirely remotely, just after activation, we will send you a URL link that you must put it on your PORTAL, as in the picture below: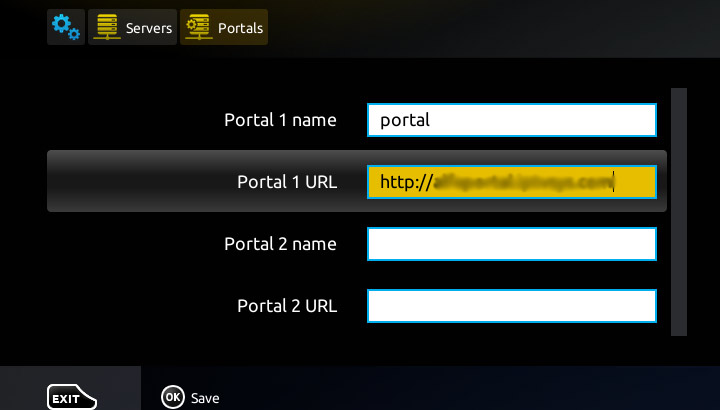 -Box Android TV, Smartphone (iOS, Android) :
1- ipTV Smarters available on :
Google Play Store and compatible with: Box Android, Smartphones, tablets, Android TV ..
App Store for iOs ( iPhone, iPad..)
This application is accessible with a username + password and server URL.
-M3u file : VLC – Kodi – Perfect Player iptv …etc
For this type of applications available on PC/Mac, Smartphones/tablets, ipad, iphone ..etc NO NEED TO PROVIDE YOUR MAC ADDRESS , we will send you a m3u file link to add to your favorite app (if you are a beginner we will assist you by Email or Whatsapp)
-SS IPTV : Activation for Smart IPTV :
If you prefer to use the iptv SS app available on several Smart TVs like: Sony, LG, Smasung .. etc, just send us the code to put the link directly into your application, see the picture below: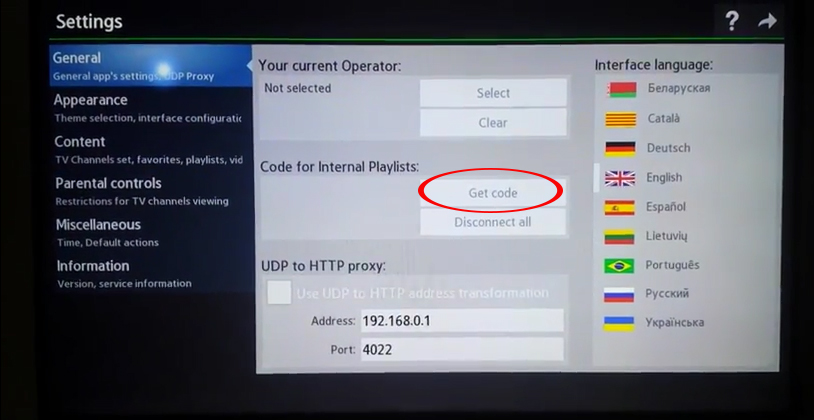 Our iptvdigi subscription is compatible with :
All devices Android (Smartphone, Tablette, box etc…)
iPhone, ipad, APPLE TV..
Smart TV Samsung, LG, Sony and all Smart TV under Android.
Mag 250 – Mag245 – Mag254 – Mag255 – Mag256 – Mag257 – Mag270 – Mag275 – Mag350 – Mag352
KODI (former XBMC) sur PC, Android box, iOS
PC (VLC ,kodi, Perfect Player iptv …)
Box Enigma2 (Vu+, Dreambox, Zgemma, ..)
Samsat, Starsat, GigaBlue, Geant, Tiger, Revolution, Vision, Echolink (V1, V3, V4, V5, V9, V9 Pro, Femto, Tornado)
NB: Any manipulation if technical knowledge will be necessary on your part, if you have a Smart TV Samsung or LG, sony or, MAG250,254 .., Android Box or Smartphone / Tablet, just fill out the order form and enter the type of your device or the application used, once your order is received we will activate the iptv subscription chosen for you within 2 hours maximum.
FAQ –  6 Months IPTV Subscription
Q: What is an IPTV subscription?
A: An IPTV subscription is a service that allows you to access a wide range of television channels and on-demand content through an internet connection. It eliminates the need for a traditional cable or satellite TV subscription.
Q: How does the IPTV subscription work?
A: Our IPTV subscription works by streaming content over the internet, giving you instant access to a vast array of channels and content. Simply connect your compatible device to the internet, install the provided app, and start enjoying your favorite shows, movies, and sports events.
Q: What channels can I access with the IPTV subscription?
A: With our IPTV subscription, you can access a comprehensive selection of channels, including popular sports networks, movie channels, news channels, kids' channels, and much more. We provide a diverse range of content to cater to every interest and preference.
Q: Can I watch the IPTV subscription on multiple devices?
A: Absolutely! Our IPTV subscription offers multi-device compatibility, allowing you to enjoy your favorite content on multiple screens simultaneously. Whether you're at home, on the go, or in different rooms, you can stream your preferred channels on different devices, ensuring everyone gets to watch what they want.
Q: Will I experience any buffering or freezing issues?
A: Our IPTV subscription is designed to provide a smooth and hassle-free streaming experience. We have optimized our service to minimize buffering and freezing, ensuring that you can enjoy your content without any interruptions or frustrations. Sit back, relax, and immerse yourself in your favorite shows and movies without worrying about buffering.
Q: Is the IPTV subscription compatible with my device?
A: Our IPTV subscription is compatible with various devices, including smart TVs, smartphones, tablets, and streaming devices such as Roku or Amazon Fire Stick. As long as your device has an internet connection and can install our provided app, you can enjoy our IPTV service.
Q: Are there any hidden fees or contracts?
A: No, there are no hidden fees or contracts with our IPTV subscription. We believe in providing transparent and flexible pricing options. You can choose the 6-month subscription plan and enjoy unlimited entertainment for the specified period. There are no surprises or hidden charges.
Q: How do I renew or cancel my IPTV subscription?
A: Renewing or canceling your IPTV subscription is a straightforward process. Simply follow the instructions provided on our website or contact our support team, and they will guide you through the necessary steps. We value your convenience and aim to make the subscription management process as easy as possible.
Q: Can I access the IPTV subscription when traveling internationally?
A: Yes, you can access our IPTV subscription while traveling internationally, as long as you have a stable internet connection. Enjoy your favorite shows and events wherever you are, allowing you to keep up with your preferred content while on the move.
Q: Is customer support available if I have any issues or questions?
A: Absolutely! We pride ourselves on providing excellent customer support. If you encounter any issues or have questions about our IPTV subscription, our dedicated support team is here to assist you. You can reach out to us via email or our designated customer support channels, and we'll be more than happy to help.
We offer a wide range of Physical products at affordable prices.
If you are interested, please check out our store – The Shop Hup.