how to download, install and setup IPTV for Roku
When it comes to TV watching, Roku or Roku Streaming Device has taken the experience to a whole new level. It has changed the way we used to watch TV. We don't need an antenna, satellite TV, or set-top boxes anymore. Nowadays, we only need a Roku device.
It gets even better when we set up IPTV on Roku. There are hundreds of thousands of TV channels available on IPTV. And when connected to Roku, the power is boosted to a superpower level. All those awesome channels from around the world have become available on Roku.
But there is a problem.
The Roku Store once supported a media player called the "M3U Playlist Player." You could watch IPTV with this media player. Without this, it has been a problem watching IPTV on Roku.
But there is a way to add IPTV on Roku and turn it into Roku IPTV. This is easy and useful.
With IPTV on Roku, you'll have all the available channels with thousands of live channels and media.
We are going to walk you through the process in this blog.
What is IPTV?
IPTV stands for Internet Protocol Television. It means watching TV on the internet.
When you have an internet connection, you don't need to add separate cables or satellite dishes just to watch TV. IPTV does the work for you. IPTV connects to the internet and brings the TV shows, and contents directly to your IP address.
You can watch TV even from your PC monitor.
The IPTV Roku app contains a lot more TV channels than you get from your traditional antennas or cable TV. Not only that, IPTV contains more TV channels than your Roku provides. IPTV has more programs than all your Netflix, Hulu, and Amazon Prime subscriptions together.
To watch all these programs, all you need is an IPTV player and an IPTV subscription.
That's why it is important to set up Roku live TV with IPTV. Then the amount of content available at your fingertips expands. And setting up a Roku costs less than the usual cable TV bills you'll have to pay.
How to Setup or watch IPTV on Roku?
The previous way to watch IPTV on Roku was by using the M3U Playlist Player. Though this app is not available in the Roku store anymore, we've found multiple ways to watch IPTV on Roku.
You can
Watch IPTV through IPTV Smarters app.
Watch IPTV through Screen Mirroring.
There are several steps in each of these ways. But it is not that complex. We are going to talk about them in detail now. Let's have a look.
Watch IPTV on Roku by Smarters App
IPTV Smarters is a free IPTV player for Roku that lets you watch IPTV. This player is not found in the Roku Store. You'll just need to side load this application from the internet. For this, you'll need a computer with an internet connection.
Installing this player is a fairly complex process. But don't panic. We have divided this entire process into smaller steps. These are:
Step 1: Enable Developer Settings on Roku.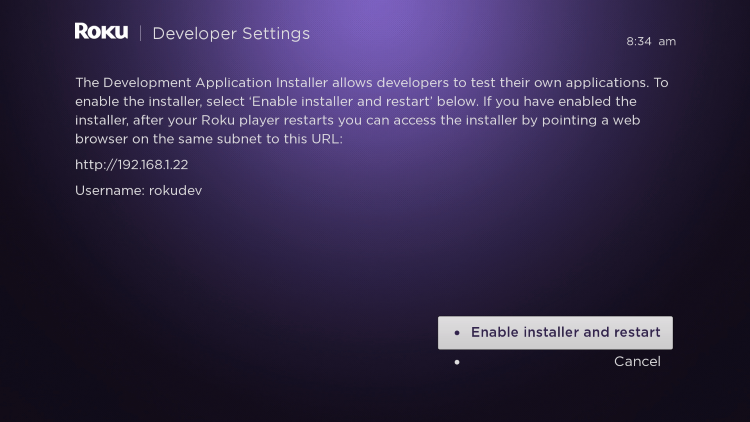 Step 2: Add the IPTV Smarters Channel to Your Account.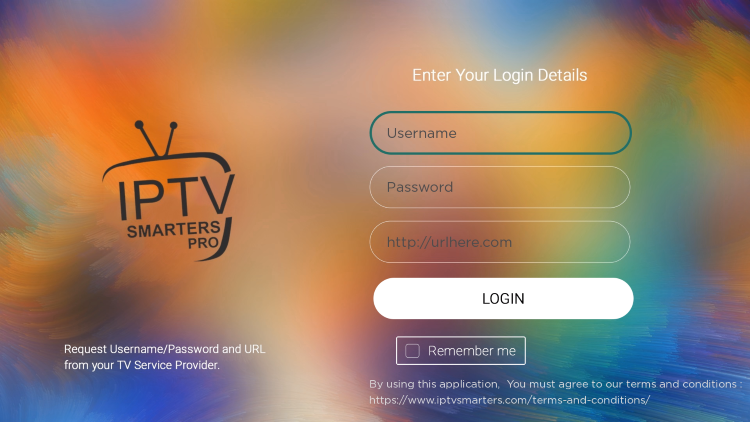 Step 3: Download IPTV Smarters app on PC.
Step 4: Install the IPTV Smarters app on Roku.
Let's have a look at how we approach these steps together.
Step 1: Enable Developer Settings on Roku
To install third-party apps in Roku, you'll need to enable the Developer Settings. Follow these steps and we'll enable this option in no time.
First, turn on your Roku device and press the following buttons accordingly:

Press the Home Button of your Roku remote 3 times.
Then, click on the Up Button 2 times.
After that, press on the Right Button of the remote Once.
Then, click on the Left Button Once.
Press the Right Button of the remote Once.
Again, press the Left Button Once.
And click on the Right Button Once.
If done correctly, you'll see the Developer Options menu on the screen. There will be an IP address on the page.
(Note that down. We'll need this IP address later in the process.)
Select "Enable Installer and Restart" with the remote and press the OK button.
Scroll down to the Developer Tools License Agreement and click on "I Agree."
At this stage, you'll have to enter a PIN Number to set up a Development Webserver Password. Enter a minimum of 4 numbers PIN of your choice.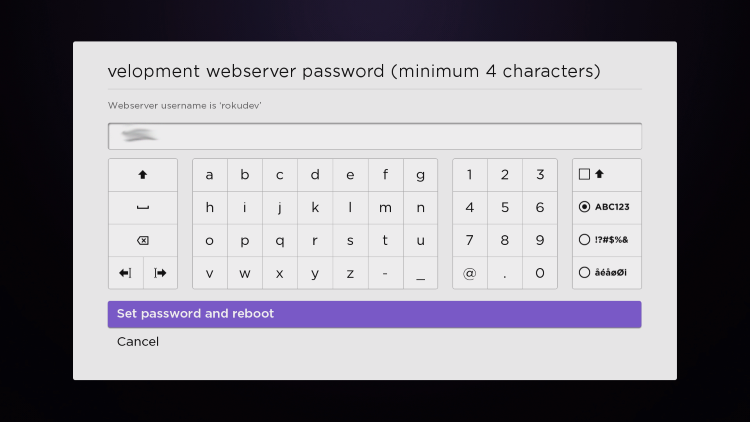 (Remember the PIN number. We'll need this password later to log in.)
Then select "Set password and reboot" and click the OK button.
Your device will set up a password and restart itself.
Step 2: Add the IPTV Smarters Channel to Your Account
Now, turn on your computer and connect to the internet. Then:
Open any web browser and go to my.roku.com.
Put in your Roku email and password. And click on "Submit."
It will log you into your Roku account.
From the drop-down menu of the web page, click on "Add channel with a code." You'll find a box to type in on the next page.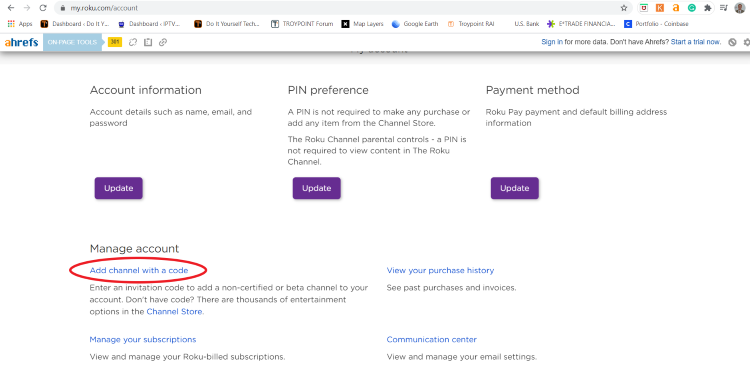 Type iptvsmarters in the box. Type exactly in this same format. Then click on "Add channel."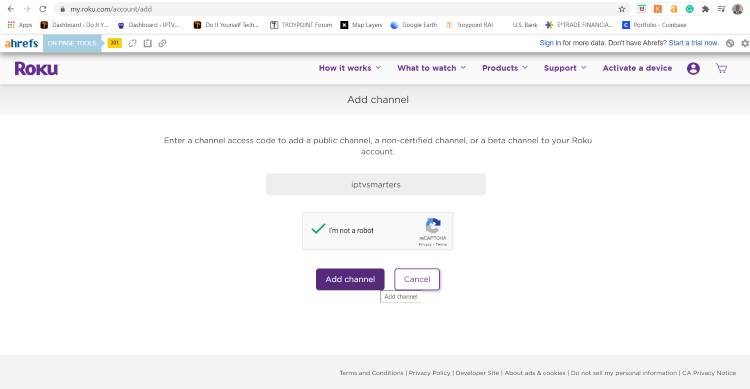 You'll see a warning page. Don't worry. Just click OK.
After that, you'll see a pop-up page. Click on "Yes, add channel."
IPTV Smarters is now added to your Roku account.
Now we'll just need to get IPTV Smarters on your Roku TV screen.
Step 3: Download IPTV Smarters app on PC
In this step, you'll need to download the IPTV Smarters package on your computer. Later, we'll install this package on Roku to run on the TV.
Open any web browser on your computer and go to this link.
Click on the option "Download Package." The IPTV Smarters package will be downloaded on your computer.
(Note: Manually select a folder to download this file. Or make sure you know where the file is downloaded. We'll need this file later in the process.)
Step 4: Install the IPTV Smarters app on Roku
You'll have to upload this downloaded package to Roku. This is how we'll install IPTV Smarters on your Roku tv.
To do that:
Open any internet browser on your computer. Then enter the IP address we mentioned in Step 1 and press enter.
You'll find a sign-in box. In the username box, type in rokudev.
And in the password box, type in the Development Web server Password from Step 1. Click on "Sign in."
You'll find yourself on the Development Application Installer page. Click on the "Upload" button.
Now, browse to the download folder of the IPTV Smarter Package from Step 3. Select the downloaded file. And click "Open."
Once the file is uploaded, move over to the "Install" button and click on it.
You'll see the currently installed application page. And there will be a delete button. If you see this page, then you've done it correctly.
IPTV Smarters App is now installed on your Roku device.
Open your Roku tv screen and you'll find a new app named IPTV Smarters Pro. Open this app. Log in with your IPTV username and password.
Now, you can watch IPTV on Roku and enjoy hundreds of TV channels at ease.
Watch IPTV on Roku by Screen Mirroring
Do you know what the best part is?
You can watch IPTV on Roku with your Android smartphone. You don't even need to use a computer. All you need is your Android phone and a stable internet connection. Moreover, this is super easy.
Let us walk you through these simple steps.
First, connect your Android phone and Roku to the same network.
Go to Settings on your Roku and then to System.
You'll find an option called Screen mirroring. Click on this option and then go to Screen mirroring mode. Make sure this option is selected on Prompt or Always Allow.
Now go to the Google Play Store from your Android smartphone and install an app called Smart IPTV Player.
After installing, open the app and log in with your IPTV username and password. You can watch IPTV content with this app.
To mirror this app on your Roku device, go to the Setting of your phone. Find the Cast option or search for it. (This is normally located under the Connectivity and Bluetooth menu.)
Then find your Roku among the available devices. Tap on your Roku device to mirror your smartphone screen.
You'll see a notification pop-up on your Roku screen. Select "Allow."
You'll see your smartphone screen on the Roku. Now launch the Smart IPTV app on your smartphone and start watching the contents.
This is how you can watch IPTV on Roku device from your smartphone.
Roku has been a great medium for consuming media at an affordable price. With many free streaming services, Roku can take the whole TV watching experience to a new level. And with the help of IPTV, Roku is untouchable. It just becomes a hybrid machine for watching media and content.
Though it is a bit tough to download and install IPTV on Roku, it is not impossible. With proper guidance, it is a lot easier to setup IPTV on Roku.
Furthermore, we have made this process even more effortless. Now you'll never run out of shows to watch.
Stream IPTV Services for Roku:
IPTV DIGI provides an excellent IPTV service for Roku users. Far less buffering then any other service providers as well as in very affordable prices. Get the best out of your Roku device. Watch iptv on roku at ease with IPTV DIGI.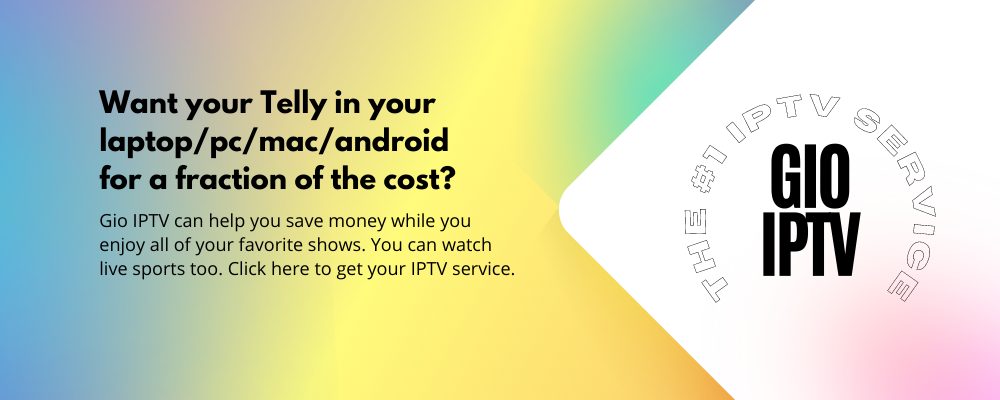 Frequently Asked Questions
Here are some answers to frequently asked questions about IPTV and Roku:
Q1: Is IPTV on Roku legal?
Ans: Yes. Though the process is a bit unusual, IPTV on Roku is perfectly legal. But the IPTV services you may use can be both legal and illegal. It is always recommended to use valid IPTV services.
Q2: Can you add third-party apps to Roku?
Ans: Yes, you can. Roku is mainly a Linux-based OS. The Roku Store supports many third-party apps for installation. If you need apps outside of the Roku Store, you can always sideload them with the proper steps. In this blog post we have shared how you can add a relatively android app to Roku to stream iptv. There are quite a lot steps but once you're done, you ready to go.
Q3: Can I install Android apps on Roku?
Ans: No. Roku runs on a Linux-based OS called Roku OS. You can't run Android apps on a Linux OS. You can't even sideload Android apps on Roku.
Q4: Does Roku streaming device have any IPTV players?
Ans: No. There was an app on the Roku Store before. But they have removed the app from their app store. But you can always sideload IPTV players on Roku. Our blog post is all about how to install IPTV on Roku. Please follow the instruction and you can stream iptv services is no time. With such affordable iptv services like IPTV DIGI, it's a total steal to enjoy tv without breaking the bank.
Q5: Can you watch YouTube on Roku?
Ans: Yes, you can. There is a Roku YouTube app available in the Roku store. You can install and use YouTube on that app. But other Google services are not available on Roku right now.
There you go, you are all set to take full advantage of your roku device or roku streaming device as well as of cheap entertainment service- IPTV.